Skiers might wonder, "Is there snow in March in Colorado?" At legendary ski resorts like Vail and Telluride, the answer is a definite "Yes!" The prospect of skiing while basking in the warm sunshine is beyond enticing. Although a cold snap is still a possibility in March, the odds for warmer weather are in your favor.
At major Colorado ski resorts like Vail, lifts typically operate into April. Telluride Ski Resort closes out the season with a pond skim at Gorrono Ranch. There are cheers galore as skiers glide along the surface of the water on their final runs. A concert follows at Mountain Village Heritage Plaza.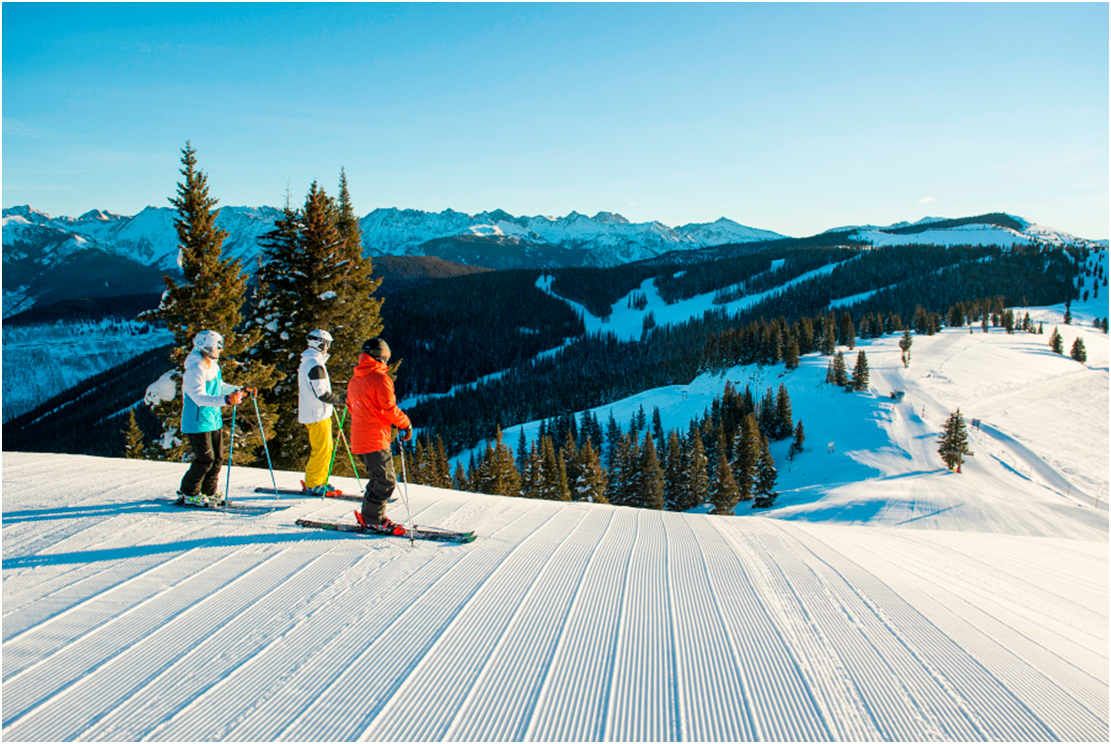 Why Springtime is a Great Time to go Skiing in Colorado
An average March day features highs in the forties and lows in the teens. It is the perfect formula for skiing enthusiasts. Those who go skiing in Colorado in March enjoy daytime warmth. At night, cool temperatures preserve the snow pack.
Fresh snow
The Weather Channel reports that March is one of the snowier months in the Colorado Rockies. In Vail, the average snowfall in March exceeds that of January. In Telluride, March snowfall is also substantial. It averages 20 inches in town and 30 inches atop the mountain.
It may be hard to believe, but Telluride, CO, and Richmond, VA, are at similar latitudes. While Richmond has an average high temperature of 60 degrees in March, it is 41 degrees at Telluride. Why? It's all about the elevation. The base elevation at the Telluride Ski Resort is 8,725 feet and the peak elevation is 13,150 feet. Moist spring air and high elevations deliver fresh snow.
Longer days
The shortest day of the year is December 21. By March, the days are much longer. This means more hours for the sun to heat things up. Also, daylight savings time arrives in early March. That means sunsets after 7 pm. For example, on March 14, the sun doesn't set until 7:11 pm at Vail.
Higher sun angle
The sun is higher in the sky in March than mid-winter. Higher sun angles mean more sunlight on the slopes for more hours on those sunny days. It also means that the sun's rays slice through the air with more warming power.
Outdoor apres skiing
Of course, warmer spring temperatures make the apres ski scene more enjoyable. Grab an outdoor table and re-live the adventures of the day over drinks and appetizers.
Excited about skiing in Colorado in March? Don't delay! Make plans for that spring ski trip today! Here are some great resorts and hotels to consider in Vail and Telluride.
Vail Resorts and Hotels
Vail is right off of Interstate 70, Colorado's primary route through the Rockies. Eagle County Regional Airport is 35 miles away.
1. Evergreen Lodge at Vail
250 South Frontage Road W
Guests at Evergreen Lodge enjoy easy access to the ski lifts. The many shopping, dining and entertainment options at Vail Village are within walking distance.
2. Doubletree by Hilton Vail
2211 North Frontage Road W
Doubletee by Hilton Vail is conveniently located just two miles from Vail Ski Resort. Mountain modern architecture features natural stone interiors with complementary wood accents. The hotel is close to Ford Park and the Gerald R. Ford Amphitheater.
3. Vail Marriott Mountain Resort
715 West Lionshead Circle
Revel in the ambiance of a Swiss ski chalet at Vail Marriott Mountain Resort. The luxury resort is just steps away from the Eagle Bahn Gondola.
4. Hotel Talisa Vail
1300 Westhaven Drive
Hotel Talisa Vail enjoys a 5-star rating. The hotel is near the ski lifts, Adventure Ridge and the John A. Dobson Ice Arena.
5. Tivoli Lodge at Vail
386 Hanson Ranch Road
The recently renovated Tivoli Lodge is nestled in the heart of Vail Village. This family-owned resort known for its caring, personal service. Tivoli Lodge is just steps away from the Vista Bahn ski lift.
6. The Lodge at Vail
174 East Gore Creek Drive
For decades, The Lodge at Vail has been an iconic presence in the Vail Valley. The grand alpine lodge fits perfectly into its surroundings. You'll find this luxury resort conveniently located at the base of the mountain.
7. Christiania At Vail
356 Hanson Ranch Road
Christiania At Vail is a Bavarian-inspired lodge in the heart of Vail Village. Choose a guest room or suite in the lodge or a condominium.
8. Antlers At Vail
680 Lionshead Place
Antlers At Vail offers both hotel and condominium accommodations on beautiful Gore Creek. It is only 150 yards from the gondola and mere steps from the complimentary in-town shuttle. All condos feature a full kitchen and private balcony.
9. The Sebastian at Vail
16 Vail Road
The Sebastian is in the heart of Vail Village at the foot of Gondola One. Your ski gear is conveniently transported slope side, ready to go when you're ready to hit the slopes.
Telluride Resorts and Hotels
Telluride offers some of the best ski-in, ski-out accommodations in the country. Guests staying at Mountain Village journey to and from the town on the only free gondola system in the country. Telluride Regional Airport is six miles west of town. Montrose Regional Airport is 68 miles away, but it is more accessible via major carriers.
1. The Mountain Lodge
457 Mountain Village Boulevard
The Mountain Lodge offers upscale lodging in the secluded community of Mountain Village. This Noble House Resort is perfect for ski in, ski out enthusiasts.
2. The Peaks Resort & Spa
136 Country Club Drive
The Peaks Resort & Spa is perfectly situated slope side in Telluride's Mountain Village. Enjoy ski in, ski out convenience. In the evening, dine at Altezza Restaurant or relax at the full-service spa.
3. Madeline Hotel & Residences
568 Mountain Village Boulevard
You'll find some of Telluride's best luxury lodging at the Madeline Hotel and Residences. Ski in and ski out to maximize your time on the slopes. In the evening, relax at the full-service Madeline Spa or sit down to a gourmet meal at the M Club.
Spring is a time to explore and see new places. Whether it's skiing in the mountains or checking out a city's sites, Guest ReservationsTM has you covered with over 100,000 lodging options worldwide. Check out our hotel and lodging options in Vail and Telluride to help you find the perfect fit for your next ski vacation.